Principals Message
Welcome! I would like to take this opportunity to introduce you and your family to Amsleigh Park Primary School. Our community is welcoming and supportive with a genuine desire to foster an active partnership between parents and staff to support the learning needs of all students.
With a current teaching and support staff of 35 and an enrolment of 365 children, Amsleigh Park is a school of choice for the local community encompassing the surrounding suburbs of Oakleigh, Chadstone, Huntingdale and Mount Waverley. Our highly professional teaching and support staff provide engaging learning programs across all curriculum areas, with an emphasis on Literacy and Numeracy. In addition, we deliver specialist-teaching programs in Visual Arts, Physical Education, Performing Arts, German Language and Reading Intervention.
At Amsleigh Park we support each child to achieve their full potential both as a learner and member of our community. The development of social-emotional skills is incorporated into all classrooms through the 'Tribes-Learning Community' process. We provide a comprehensive curriculum, with Humanities, Science, the Arts and Health incorporated into an inquiry-based, concept driven curriculum that focuses on student engagement.
We place great emphasis on the integration of technology across the curriculum. Our excellent resources include a state of the art wireless network across the whole school, computer lab and interactive electronic whiteboards, IPads and notebook computers in every classroom. Our students are able to use a range of digital learning resources to support and consolidate their learning including Mathletics and Reading Eggs.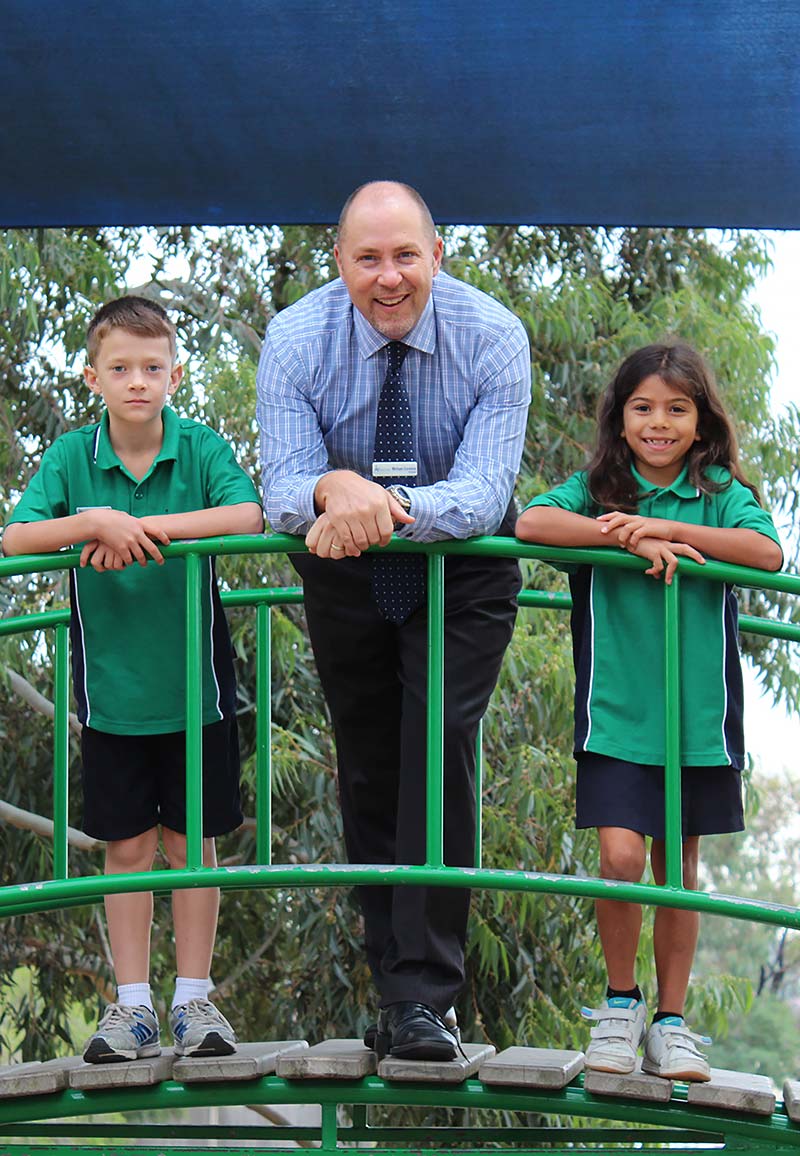 As part of our extensive extra-curricular program all students are given the opportunity to develop their creativity through our annual whole school production. Our school choir, the Leigh Club provides our students with an opportunity to perform in front of a range of audiences. Our Sport and Physical Education focuses on the development of physical skills incorporating Inter-school sport, swimming and PMP. Our highly successful school aerobics teams; Amsleigh Spirit, Intensity, Adrenaline and Extreme continue to achieve great success.
Our exceptional school facilities include: well maintained, attractive and fully air-conditioned learning spaces that support best practice teaching and 21st century learning. Our learning spaces are complemented by extensive outdoor play areas encompassing; adventure play equipment, a school oval, and two basketball/netball courts. The recently constructed Thelma Bailey Learning and Sports Centre houses our gymnasium, canteen and learning spaces for German and Performing Arts.
In 2015 we have commenced a significant capital works program with 5.7 million allocated by the State Government to rebuild and modernise our school facilities. We look forward to further enhancing our learning programs through the provision of state of the art facilities, which will be enjoyed by our students and staff across all future generations.
At Amsleigh Park PS we are very proud of our students and maintain high expectations for their development and achievement. Our students are given many opportunities to showcase their special talents through our broad array of learning programs inclusive of Leadership which is encouraged through our Student Leadership Team and the Student Representative Council.
I invite you as a prospective member of our community to visit Amsleigh Park PS for a personal tour of the school to see the outstanding school environment we can offer your child.
Michael Cormick
Principal
Assistant Principal's Message
Amsleigh Park Primary School is such a wonderful school in so many ways. Everyone is committed to providing the best opportunities for all of our students. Our staff are extremely dedicated and they are continually striving to build upon their skills as educators and work with their students to enable them to achieve their full potential. Everyone who works at Amsleigh Park P.S. espouses the schools motto of Our Best Always.
We are committed to the development of the whole child and providing opportunities for our students to develop as 21st Century Learners. At Amsleigh Park we believe we play an integral role in preparing our students as twenty-first century learners by guiding them to become critical thinkers, collaborative learners and problem solvers.
Our staff are very committed to the ongoing development of their skills and knowledge through their active participation in professional learning activities at Amsleigh Park and in the wider community. They are very enthusiastic about keeping up to date with current developments in Victoria and Australia.
At Amsleigh Park our staff continually works to build strong partnerships with, parents and work closely with other
professionals to make sure that the social, emotional and physical needs of our students are continuallyworking to provide an environment where everyone feels safe and comfortable as well as providing opportunities for all students to achieve success. As part of our Student Wellbeing Program all of our classes follow the You Can Do It Program which focusses on the areas of Confidence, Persistence, Organisation, Getting Along and Resilience. Also we follow the Alannah and Madeline Foundation Better Buddies Program where all of our Prep students have a Year 6 buddy and they support each other and work together on a range of activities.
We are extremely fortunate to have an enthusiastic, experienced and dedicated staff who continually work with their colleagues to ensure the best possible educational programs are implemented for all students. This is evident in our classroom programs as our teachers are continually striving to be innovative and inspiring so all of our students feel successful in their learning, challenged and are motivated to reach their full potential.
We are continually working to develop our school grounds and provide an exciting, safe and interesting environment for our students. We have extensive playground areas including, ovals, adventure playgrounds, a sandpit, basketball and netball court as well as asphalt and grassed areas for other activities. Our students love to practice their dances on our covered deck are and enjoy playing with their friends whilst sitting in the shade under our pergola or variety of seating areas.
Every year we publish our Amsleigh Park Year Book which is a celebration of our students' achievements and the wide ranging experiences they have been involved in throughout the year. If you would like to come along and see what great things we do at Amsleigh Park Primary School you are welcome to ring us and book a school tour at any time.
Sue Cox
Assistant Principal
School Profile
Our school, Amsleigh Park Primary School, is located in the quieter suburban streets of Oakleigh East and has a stable population of 360 students. Housing developments and the increase of new families settling in Oakleigh East and surrounding suburbs have contributed to enrolment growth in recent years. The vast majority of our students live in the surrounding suburbs of Oakleigh East, Oakleigh, Huntingdale, Chadstone and Mount Waverley.
Our school's purpose is;
'To provide a safe, supportive and dynamic learning environment through high quality teaching that enables all students to be responsible, independent and resilient learners, well prepared for an evolving global future.'
Our purpose is complemented by a comprehensive set of beliefs and our school values; Respect, Integrity, Motivation, Inclusion and Resilience.
Our staffing profile includes a good balance of teaching experience. Our school currently has 35 staff comprising 24 teaching and 11 education support staff. Our professional, committed and highly motivated teaching and support staff are actively involved in a wide variety of whole school activities and events.
Our curriculum is based on AusVELS which forms the basis of all planning at the school. Our English, Mathematics and Inquiry Learning Programs are prioritised and incorporate a range of learning styles and learning activities. Inquiry based learning focuses on whole school concepts and collaborative learning tasks that incorporate a range of thinking skills and the use of technology. Additionally we offer a Reading Assistance program, learning support and English as an Additional Language (EAL) support. We actively seek to personalise learning for and support each child to achieve their best.
Student Wellbeing is an important priority for our school. Social-Emotional development and an emphasis on developing the 'whole child' are a fundamental part of our core beliefs, and our school has recently become a TRIBES-Learning Community (TLC) school. We have a very comprehensive transition program we know as 'Smart Start' that supports children to prepare to move up a grade level each year. During this program our students work in year level groups with teachers from the year level above to develop an understanding of how expectations might change and what they can look forward to. Our program is designed to ease anxiety and build confidence. At the start of each year all classes undertake a 'Learning to Learn' program, which sets clear expectations for students and classes about learning. This program also supports the establishment of a harmonious and orderly classroom environment.
Our specialist programs include Physical Education, German Language, Performing Arts and Visual Arts and we also provide 'extra-curricular' programs such as Library, Bike Education, Swimming, Aerobics, Chess, Wise Ones, Keyboard, Guitar and Outdoor Education (camping programs) for our students in Grades 2 through to 6.
A highlight of our school culture is the strong partnership between parents and staff which is enhanced by a very supportive School Council. Our community has a friendly and welcoming culture with many parents actively supporting learning and participating in school events. Throughout the school year our school runs a number of whole school events including a bush dance, sports night, bedtime stories night, Carols night and Open Night. Additionally we have an annual school production, which is a great highlight of the school year for students, staff and parents. All children are involved in the performances, which are held over two nights and attended by over 900 members of our school community.
Amsleigh Park Primary School consists of several buildings; the main one, an attractive triple story red brick building with a heritage style façade, houses the Administration Offices, Classrooms for Grades 3 to 6, the Library and an Information Technology Laboratory. Adjacent to the main building is a single story building that houses most of the junior school classrooms. In addition the school also currently has two MOD 5 portables on-site. Two separate buildings house a Multipurpose Room [Before & After School Care] and Art Studio facilities. The latest addition through the BER is a Gymnasium, Performing Arts and Learning Space housed in a magnificent new building that was constructed in 2010. A recent commitment by the State Government has allocated $5.7 Million to construct a new P-2 learning wing and refurbish the school's main building.
Our Purpose & Values
Our purpose is to
To provide a safe, supportive and dynamic learning environment through high quality teaching that enables all students to be responsible, independent and resilient learners, well prepared for an evolving global future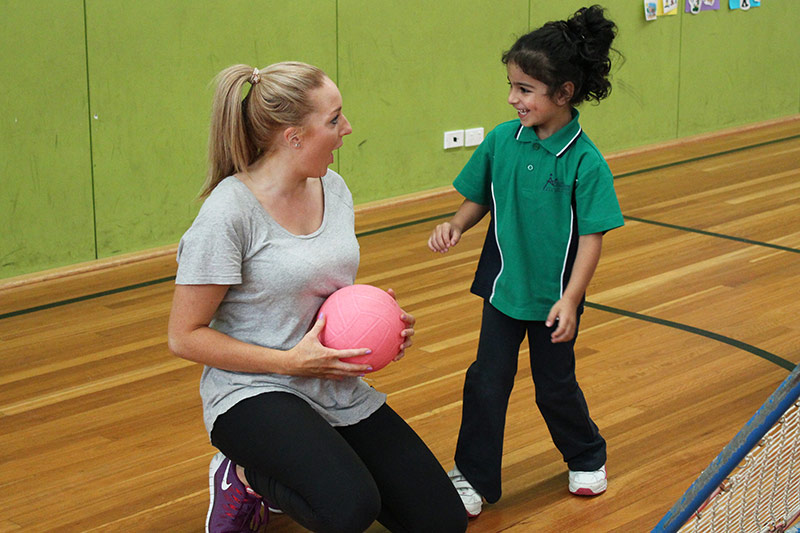 Our School community has developed the following values as central to the life of our school
Respect: which at APPS means treating one another and the school environment with consideration and courtesy.
We believe behaviours that demonstrate the value are –
Active listening to a speaker in all situations without interruption
Open communication and maintaining an open mind to fresh and innovative ideas
Acceptance of different personality types
Acceptance of different teaching styles
Acknowledge efforts and accomplishments
Individual views are considered in decision making processes
Conscious of personal workspaces
Accept and offer constructive and objective feedback
Carry out commitments
Use positive body language and not use put downs of any form
Integrity: which at APPS means communicating truthfully and in a tactful manner
We believe behaviours that demonstrate the value are-
Speaking truthfully with one another
Be willing to answer questions and raise them
Be willing to express your opinion.
Responding appropriately to questions
Expressing feelings sensitively
Reflecting on own and others performance honestly
Recognising own abilities and limitations and areas for development
Acknowledge and accept responsibility for your own actions
Motivation:which at APPS means to be stimulated, engaged and excited about a task and to perform at an optimum level
We believe behaviours that demonstrate the value are –
Working cooperatively as a team
Being happy and positive
Being organised and prepared
Setting achievable goals
Displaying interest in own and others tasks and activities
Challenge oneself and develop the ability to bounce back in the face of adversity
Preparedness to revisit/reassess goals and targets
Acknowledge and support efforts of others
Acknowledge that others may have different levels of motivation
Inclusion: which at APPS means a sense of belonging: feeling respected, valued for who you are; feeling a level of supportive energy and commitment from others so than you can do your best 
We practice inclusion by –
Acknowledging, celebrating and valuing cultural diversity and difference
Understanding individual needs and providing reasonable adjustments where necessary
Celebrating each other's efforts and successes
Making a commitment to the promotion of fairness, patience and sensitivity
Treating everyone fairly and providing everyone the best opportunity to succeed
Demonstrating acceptance of different personalities and life experiences
Ensuring that our diversity is reflected in all of our activities (productions, school magazine and SRC)
Ensuring that our school does everything it can to promote a discrimination free environment
Ensuring that everyone can participate in all aspects of school life
Resilience: which at APPS means demonstrating an understanding of the expectation of being a good student and establishing good practices
We practice resilience by  –
Being independent, organised and self-motivated
Showing preparedness to revisit/reassess goals and targets
Bouncing back after experiencing disappointment
Showing inner strength and a positive mindset when faced with challenges
Understanding that mistakes are part of learning and that failure can lead to strength
Learning new skills and challenging ourselves
Setting goals and persisting in working towards them
School Song
Verse 1
There's a place in the world, in Australia
Where we can all make our mark.
It's our school where we, share and learn together,
And we call it: Amsleigh Park !
Chorus
We are Amsleigh Park Primary School,
We are the future, we know it's true,
Working together is what we do,
Making our school the best for me and you.
Verse 2
In all that we do, we try our hardest,
And our team spirit is strong.
Amsleigh Park is our school, and it's the finest,
We're very proud to belong.
Chorus
We are Amsleigh Park Primary School,
We are the future, we know it's true,
Working together is what we do,
Making our school the best,
Making our school the very best,
Making our school the best for me and you.
(Repeat chorus)
National Anthem
Verse 1
Australians all let us rejoice,
For we are young and free;
We've golden soil and wealth for toil,
Our home is girt by sea;
Our land abounds in Nature's gifts
Of beauty rich and rare;
In history's page, let every stage
Advance Australia fair!
In joyful strains then let us sing,
"Advance Australia fair!"
Verse 3
Beneath our radiant southern Cross,
We'll toil with hearts and hands;
To make this Commonwealth of ours
Renowned of all the lands;
For those who've come across the seas
We've boundless plains to share;
With courage let us all combine
To advance Australia fair.
In joyful strains then let us sing
"Advance Australia fair!"