School Tours
Amsleigh Park welcomes prospective families to take a tour of our school. School tours with the Principal are undertaken weekly and take approximately 60 minutes. During the tour parents have the opportunity to view the broad range of educational programs on offer and also visit our classes as they go through their normal school day. We invite you to take a tour of our school and view for yourself the wonderful school environment we offer.
Please phone the school on 9544 1553 to book in for a tour or for more information about our school.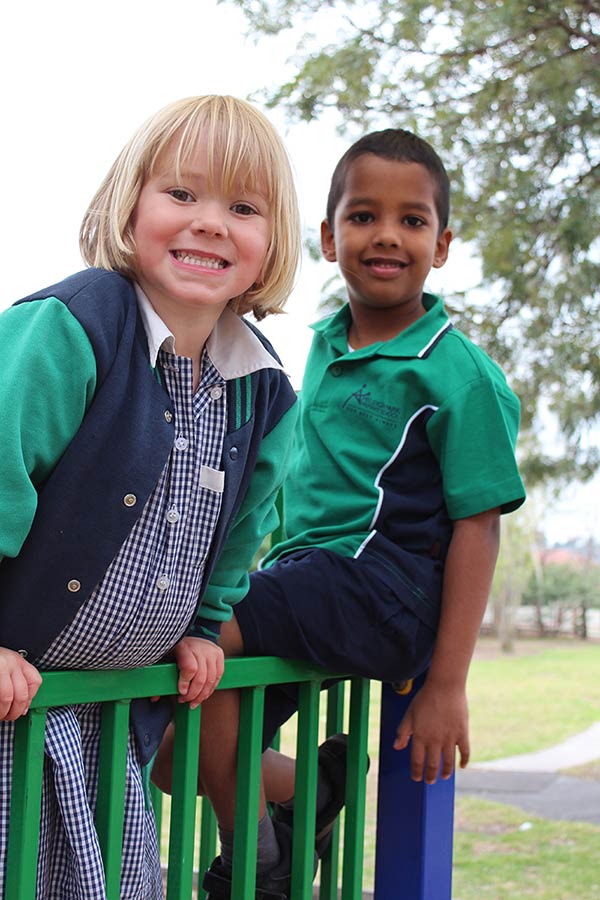 Information about Enrolment for Prep (Foundation) in 2024
Our school zone
Our school zone is available on findmyschool.vic.gov.au which hosts the most up-to-date information on school zones in Victoria.
Students residing within our school zone are guaranteed a place at our school, which is determined on the basis of your permanent residential address.
Our school manages enrolments using the Placement Policy to ensure that students have access to their designated neighbourhood school and may enrol at another school, if there are available places.
For more information, you can:
Foundation (Prep) enrolments
The Department of Education (DE) has a statewide Foundation (Prep) enrolment timeline.
The timeline advises families when and how to enrol their child into Foundation (Prep) at a Victorian government primary school, including Amsleigh Park Primary School.
You can find information and resources about the enrolment timeline and procedures at: Enrolling in Foundation (Prep).
The new timeline will apply for children starting Foundation (Prep) in 2024. All government primary schools will follow the new timeline in 2023 to support Foundation (Prep) enrolments for the 2024 school year.
You can find information and resources about the new timeline, including factsheets, at: Enrolling in Foundation (Prep). You can also download the 'Foundation (Prep) Enrolment Information Pack for Parents/Carers for the 2024 school year' from the Starting School webpage (available from 24 April 2023).
You will be able to apply to enrol your child in Foundation (Prep) 2024 at Amsleigh Park Primary School from 24 April 2023.
What you need to do:
Contact our school general office to book a school tour or to learn more about our school and the enrolment application process
Download the Foundation (Prep) enrolment information pack from Enrolling in Foundation (Prep) (available from 24 April 2023)
Submit an enrolment application for Foundation (Prep) by Friday 28 July 2023
You will be notified of the outcome of your application by Friday 11 August 2023. If you receive an offer of placement, you should contact our school to accept the offer by Friday 25 August 2023
Take part in enrolment information and transition sessions during Term 4, 2023
Your child will start Foundation (Prep) from Tuesday 30 January 2024.
Enrolment applications submitted after 28 July 2023 will be processed by our school as they are received, in accordance with the department's Placement Policy.
Check which school is your local school using the 'find my school' website.
www.findmyschool.vic.gov.au
Prep Transition
Starting school is an exciting time for all children and at Amsleigh Park we have a well-structured orientation program that supports each child as they transition from pre-school to primary school.
We are committed to ensuring that all students are well prepared to start primary school and each year we offer our new preps 4 special visits to Amsleigh Park PS. 
Following feedback from pre-schools in 2020 our Prep orientation will commence in the final four weeks of the school year. This recognises that children in 4YO kindergarten may become unsettled if their transition to primary school commences too early. After a successful trial in 2020 we are continuing this is 2021 for Preps commencing in 2022. Please see the attached flyer for Prep Transition dates for 2021 sessions commencing on Wednesday 24th November, 2021. 
The four visits are designed to gently introduce children to school life and teaching staff. Once children have participated in these sessions they normally feel very comfortable in our school environment and look forward to commencing the following year.
Our caring prep teaching staff are also available to discuss any specific needs your child might have and you should make contact with them to organise a meeting time.
Please contact the office to make an appointment or discuss with our prep teachers at the transition sessions.
We look forward to welcoming our future students and their families to Amsleigh Park Primary School. 
How to Enrol
Contact or visit the school to collect an 'Amsleigh Park' enrolment pack
Complete your enrolment form and return to the school office
An original birth certificate or passport must be sighted by the school or a certified copy provided
An immunisation status certificate is required, which is available through Medicare
Once the school has all required information the enrolment process is completed, you will receive confirmation of enrolment from the school.
If you require an enrolment form to be sent via email please contact us at amsleigh.park.ps@education.vic.gov.au
Parent Testimonial
"We were in a position to send our son to a private school but decided to look into Amsleigh Park Primary as it was so close to our home. After meeting the principal and teachers and seeing the facilities at the school, it became an obvious choice for us to send him to Amsleigh Park. And it's a choice we've not regretted. Amsleigh Park is a fantastic small community school where students' differences are readily accepted, and achievements whether academic or otherwise are celebrated. Our son's teacher is incredibly enthusiastic and genuinely interested in his academic progress and emotional wellbeing. We'd happily recommend the school to any new parents and students."  (Parent of Prep, 2019)
I would definitely recommend Amsleigh Park Primary School as a community-orientated and very friendly school to send your children to. It is fantastic to say goodbye to my children in the morning knowing they will be cared for by a dedicated and caring teacher who knows all of my family on a first name basis.The prep transition program was thorough and friendly making it easy to connect to other new families. Any questions or inquiries I've ever had have been quickly and professionally followed up.
(Prep parent 2020)
We have been a parent of 3 children at Amsleigh Park Primary School since 2012 and have another 5 years ahead of us. Since joining the school community we have felt welcome, safe and confident in the education of our children. The staff at Amsleigh Park Primary are honestly so invested in our children and their development and we are so grateful that we choose APPS. The school is very well managed with an excellent Principal in Mr Cormick and Vice Principal in Miss Carr who are always prepare to listen to any concerns we have had. The facilities are outstanding and the school is always looking for ways to improve the grounds for our kids.
One other thing that stands out at APPS is the community support. We are extremely lucky to have a great community who help the school to be what it is. We are indebted to APPS for the growth in our children and look forward to their continued support and community involvement for many years to come.
(Parents Sonya and Tim)